Long-duration balloon flights at northern latitudes
The first NASA summer campaigns (2005) demonstrated a new long duration, heavy payload balloon capability from the northern hemisphere to the international science community. SSC and NASA combined their resources and experiences to offer significant new opportunities for US and European scientists to fly sophisticated instruments in near space for periods of up to 10 days at very low cost.
Colombia Scientific Balloon Facility (CSBF) has the overall operational responsibility for the campaign activities and they will be supported by a particular project manager and a launch team from the SSC.
Until today the following flights have been performed:
2005
2006
AESOP – 2 June 2006
ULDB – 12 June 2006
TRACER – 8 July 2006
2009
LEE – 18 May 2009
AESOP – 6 June 2009
SUNRISE – 8 June 2009
ULDB – 22 June 2009
2011
LEE – 27 May 2011
AESOP – 9 June 2011
HiWind – 13 June 2011
2013
SUNRISE II – 12 June 2013
2018
AESOP-Lite – 15 May 2018
HiWind – 24 June 2018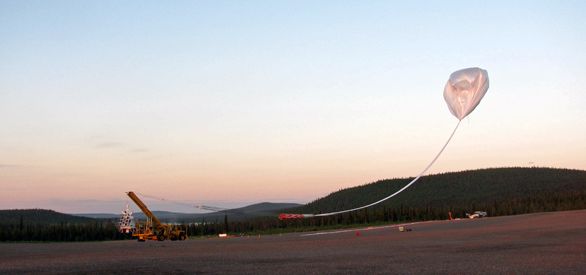 General information
Launch site: Esrange Space Center
Launch date: Planned to be launched May – July 2018
Scientific payloads:
AESOP-lite; Launched May 15, 2018 at 22:07 UTC
HiWind; Launched June 24, 2018 at 22:30 UTC
PMC-Turbo; Launched July 8, 2018 at 07:27 UTC
Link to NASA balloon page about campaign:
https://www.csbf.nasa.gov/sweden/sweden.html 

Image on left: HiWind was launched from Esrange Space Center 13 June 2011.
HiWind
Science Objectives:
To measure summertime polar cap thermospheric neutral winds and to study the ionosphere and thermosphere interaction in the polar cap during the summer
To understand the Joule heating in the high latitude region which has a great impact on thermosphere global circulation
To study hemispheric difference in the thermospheric winds by comparing with simultaneous observations in southern hemisphere
The observational results will have a great impact on space weather research and help to predict the ionosphere variation related to the thermosphere motion
HiWind is a balloon borne Fabry-Perot interferometer
Dr. Qian Wu, High Altitude Observatory, National Center for Atmospheric Research
Heliophysics/Geospace Science
PMC-Turbo
Studying turbulence best where it is least accessible
Science Objectives:
Polar mesospheric clouds (PMCs) occur where gravity wave dissipation and turbulence are strong
PMC are sensitive tracers of turbulence morphologies – in an ideal natural laboratory
PMC Turbo motivated by EBEX star camera images that revealed spectacular turbulence structure
Why study turbulence at high altitudes?
Turbulence impacts atmospheric circulation and structure from local to global scales – and from Earth's surface to above 100 km
Improved descriptions of turbulence effects are a central need of numerical weather prediction models upon which we rely every day
Turbulence can be hazardous to life and property
Turbulence can perhaps best be studied at high altitudes, where PMCs provide unique observational capabilities
Dr. David C. Fritts, GATS Inc.
Heliophysics/Upper Atmosphere Research
AESOP-Lite
Anti-Electron Sub-Orbital Payload- Low Energy
Science Objectives:
Serve as the 1 AU baseline for Voyager Electrons;
In August 2012, Voyager 1 made the historic entry into interstellar space. The new payload AESOP-lite will be the only instrument that provides overlapping electron energies.
Search for the origin of the turn up in the low energy electron spectrum;
Resolving electrons and positrons is vital to understanding both electron origin and propagation. AESOP-lite will be capable of charge sign separation at these energies.
Dr. John Clem, University of Delaware
Heliophysics
Contact Persons
Dr. Mark Smith, Project manager, SSC
Dr. John Clem, University of Delaware
Dr. Qian Wu, High Altitude Observatory, National Center for Atmospheric Research
Dr. David C. Fritts, GATS Inc.