HEMERA
HEMERA is a balloon infrastructure project, funded by the European Commission within its programme Horizon2020.  In this programme, six zero pressure balloon flight campaigns and several smaller sounding balloon flights are foreseen from mid-2019 to late 2022.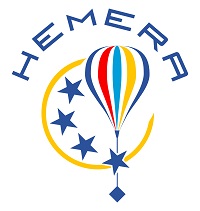 General information
Launch site: Esrange Space Center, Kiruna
Launched: 8th December 2020 08:54 UTC
Balloon type: Raven Aerostar SF-0.141, Sounding Balloon
Balloon size: 4000 m3
Payload: Atmospheric research
Payload
Vortex – dust:
Study the aerosol content within and outside the stratospheric polar vortex.
Dr Gwenaël Berthet, University of Orleans, France
About Horizon 2020
Horizon 2020 is the biggest EU Research and Innovation programme ever with nearly 80 billion Euro of funding available over seven years (2014 to 2020) – in addition to the private investment that this money will attract. It promises more breakthroughs, discoveries, and world-firsts by taking great ideas from the lab to the market. Learn more; "What is Horizon 2020?"
Contact Persons
David Hagsved, SSC