News, Rocket Missions
At exactly 8.26 AM on Saturday, the 57th TEXUS rocket was launched from Esrange Space Center outside Kiruna. Like its predecessors, this sounding rocket contained experiments for scientific purposes in a microgravity environment. SSC was responsible for the launch while the program was carried out jointly by Airbus, DLR-MORABA, and OHB-System.
TEKUS, an experiment with silicon oil (commonly used as a lubricant), was one of the experiments in the payload. During the time in microgravity, the oil in the sample cells is exposed to different temperatures, subjected to a field of ~5,000 Volts, and studied with lasers, cameras, and various sensors.
The program itself is dating back to 1976 which makes it the oldest rocket program in Swedish Space Corporation's history and even one of the oldest in the world.
In the image Mechanical Engineer Peter Cordes is inspecting experiment TEKUS while tightening all bolts.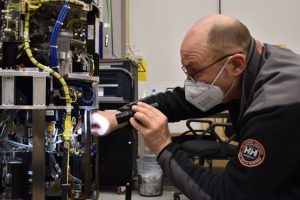 SSC will report further from ongoing and completed campaigns at Esrange. Live streams of the launches can be seen on our YouTube channel!